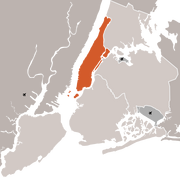 In the heart of the capital of the Empire State, the borough of Manhattan is a major commercial, financial, and cultural center of both the Empire State and the world. Anchored by Wall Street, in Lower Manhattan, New York City vies with the City of London as the financial capital of the world and is home to the New York Stock Exchange, the world's largest stock exchange by market capitalization of its listed companies.
Many major radio, television, and telecommunications companies in North America are based here, as well as many news, magazine, book, and other media publishers.
Manhattan has many famous landmarks, tourist attractions, museums, and universities. It was also home to the headquarters of the League of Nations before the formation of the Empire State caused the League to move their headquarters to Washington DC.
Manhattan has the largest central business district in North America, is the site of the New York Stock Exchange, and is the home to the largest number of corporate headquarters in North America. It is also the location of the rooftop aerodromes of the Broadway Bombers.
Manhattan is only infrequently a target of piratical activity, as the combination of the well-trained NYPD and the well-equipped militia make it a dangerous area in which to attempt such activities. The relative stablility of this region is one of the chief contributing factors to its current prosperity.